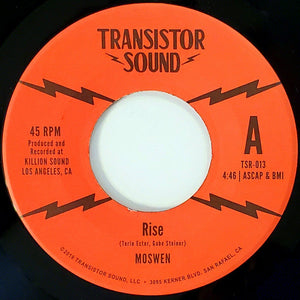 Transistor Sound
MOSWEN - Rise b/w Tobacco and Sage
Regular price
$8.99
$0.00
Unit price
per
Terin Moswen Ector grew up in Venice Beach, California soaking in the Afro-Cuban jazz sounds being played by his musician father and uncle. Touring with bands like Orgone, Monophonics, and Bambaata Marley, Moswen has honed his craft and gained valuable experience. Today, these deep roots and solid foundation lend depth and weight to the fresh melodies and rhythms of his own music brought to us on his first Transistor Sound 45 release -with an LP to follow soon.
"Rise" features a rock-solid rhythm section and heavy horn arrangement supporting Moswen's seemingly effortless vocal, reminding us: "don't look down now, keep your head up."
The instrumental B-side, "Tobacco and Sage," continues with an infectious groove that harkens back to Moswen's Afro-Cuban roots, with rhythm section and horns again working as one to deliver a soul message to mind, body, and spirit.
Moswen's release was co-produced, recorded and mixed by Sergio Rios at Killion Sound in North Hollywood, California. Rios' name will be familiar to anyone who has enjoyed records by Orgone, Jungle Fire, Neal Francis, or hitmakers like Alicia Keys & CeeLo. This organic musical marriage is a perfect way to spotlight Moswen's sound. His voice is an undeniable force, rich and soulful, built on his Topanga roots and the culture he wallowed in while growing up.
There's something new and different coming out of LA today!
---