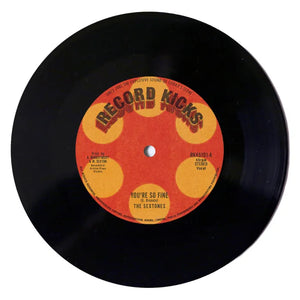 Record Kicks
THE SEXTONES - You're so Fine / Cowboys to Girls
Regular price
$12.99
$0.00
Unit price
per
US combo The Sextones make their debut on Record Kicks with "deep soul" 45 that is highly candidate to become a must for Northern and Modern Soul Fans.
Record kicks new signing Reno, Nevada-based band The Sextones makes their debut on Record Kicks with a deep soul 7″ that is going to become a must have for northern soul and modern soul fans across the globe. The 45 vinyl limited to 500 copies worldwide and will be released via Record Kicks on March 10th.
Side A features a cover of Northern Soul anthem "You're So Fine" by Papa Bear and His Cubs, a family band formed in 1963 and fronted by Eddie Disnute Sr. AKA "Papa Bear" and his children "The Cubs". The cover stays true to the original's essence—straightforward, intimate and sincere but now also includes silky background vocals from none other than Saundra Williams of the Dap-Kings. It's enchanting and irresistibly sweet soul music, just the way we like it.
On the flip side, we find a cover of the Philly Soul classic "Cowboys To Girls". The song was a breakout hit from Philadelphia's dream songwriting team, Gamble and Huff. "Cowboys To Girls" has shown its staying power over the decades and has stylistically influenced many contemporary artists. The Sextones take the best elements from the best versions and with the recent passing of Philadelphia International's Thom Bell, the release of this cover is a perfect tribute.
---