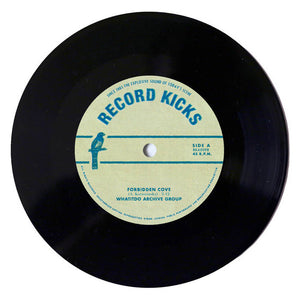 Record Kicks
WHATITDO ARCHIVE GROUP - Forbidden Cove b/w The Cashmere Chamber
Regular price
$12.99
$0.00
Unit price
per
Following the release of their 2021's critically acclaimed album The Black Stone Affair, instrumental cinematic-soul outfit Whatitdo Archive Group unleashes two startling new singles: "Forbidden Cove" and "The Cashmere Chamber", out on limited edition 7'' on March 24th via Record Kicks. The 45 is limited to 500 copies worldwide and it is just an appetizer of the upcoming new album Palace Of A Thousand Sounds, scheduled for release on May 5th, 2023. Whatitdo Archive Group previous 45s went sold out in weeks and are currently very in-demand from collectors and djs.
On side A, we find the first single "Forbidden Cove". We are immediately greeted with top-notch production that feels like we stumbled upon yet another lost rarity, but this time from the heyday of American "exotica" music from the mid-century movement of the early '60s (think Martin Denny and Les Baxter). The twist here is that the underlying tone is dark, heavy and cinematic. WAG flexes their compositional chops and maturity with clever arrangements, a tight rhythm section and dreamy vibraphone that lead us to dense Arthur Verocai-esque orchestral arrangements and hypnotizing eastern
flavors.

From the first notes of the Javanese metallophone, Whatitdo Archive Group welcomes you into "The Cashmere Chamber", on side B of the 7''. Less a room and more an auditory experience, "Chamber" skillfully guides you deeper into its world complete with menacing drums and bass, sinister vibraphone melodies and a haunting choir. But this driving force of the rhythm section isn't enough for WAG; we see the song quickly blossom into an adrenaline pumping guitar feature layered expertly with a Turkish baglama saz and percussion. This track is a sample-worthy heater for any DJ.
---