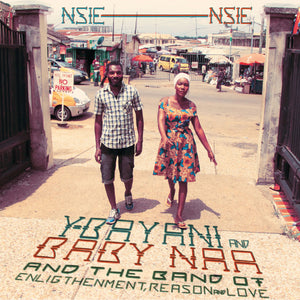 Philophon
Y-BAYANI & BABY NAA And The Band of Enlightenment, Reason & Love - Nsie Nsie
Regular price
$24.99
$0.00
Unit price
per
Shortly after Philophon's head honcho Max Weissenfeldt and Stibbo Spitzmüller opened their studio in Berlin in 2012, Max invited his old friend and fellow drummer Josie Coppola (already part of Germany's most famous reggae act, Gentleman) to record some roots reggae.
Fast forward to 2014, Max is traveling to Ghana, carrying with him those recordings. At that time he was hanging with Jimmy Taylor - the son of Ghanaian Highlife legend Ebo Taylor. It was during a session at Jimmy's studio at Saltpond, that Max serendipitously met Y-Bayani.
Jimmy played to Max a friend's Afropop song he just worked on. Max heard something special in that song and asked the guy, called Yusef Hussain (who later became Y-Bayani - spelled Why-Bayani), if he liked to try a reggae version of it. That was the first song Yusef had ever written. The recording with Max was the birth of 'Asembi Ara Amba', which was later on included on the Polyversal Souls debut album "Invisible Joy" (Philophon, 2015) becoming the hit of the album.
As Max was constantly exchanging sessions with Josie and following the success of 'Asembi Ara Amba', it felt natural to bring Yusef in studio again. So, in 2016 the single 'Get Away' (Philophon) was released and Yusef's alter ego Y-Bayani was born - backed by The Band of Enlightenment, Reason
& Love.

On the last day of his 2017 journey to Ghana, Max organized a final recording session at his hotel room. He was about to record a choir for Philophon artist Alogte Oho and a new song for Y-Bayani. Alogte enrolled a backing singer for his song - when she didn't show up, Max asked to his friend Naomi Addy, a local Church singer, if she could join the session. Max was blown away by the brilliance and clarity of her voice and suggested to Y-Bayani that she should also work with him. The result was 'Rehwe Mi Enyim' - a match made in heaven, and the final piece to complete the puzzle: finally, Y-Bayani & Baby Naa And The Band of Enlightenment, Reason & Love was born.

Max recalls the genesis of the album:
"The whole thing was born out of chance. First, I started to record reggae just because my friend Josie is a reggae drummer - honestly, I have few reggae records compared to like several thousand jazz records in my collection, it wasn't something I was too much into at that time. Then, meeting Y-Bayani, who had only one song in his repertoire which wasn't even originally a reggae song; and last but not least, the discovery of Baby Naa when one of our vocalists didn't show up. It was her first time ever in a recording studio. Maybe I could have named the group The Band of Coincidence, Fortune and Chance instead?"
---